Dear Googler, Volume 2
Oh, Googlers…. I ♥ you so much. Once again, you asked, I answer.
We get some fantastic search engine queries and, naturally, can't help but answer these burning questions.
What are some novels featuring MINI Coopers?
Scorched by Laura Griffin (a terrorist tries to blow up a bridge with a MINI); Yellow MINI by Lori Weber; Carrie Jones' Need Pixies series. I'm sure there are more, but I'm stumped. Maybe it's time to rewatch The Italian Job?
Will True Blood get back to its roots?
I highly doubt that. Just cross your fingers for more shirtless Eric and/or Alcide.
Photos of Stefan crying.
At your service: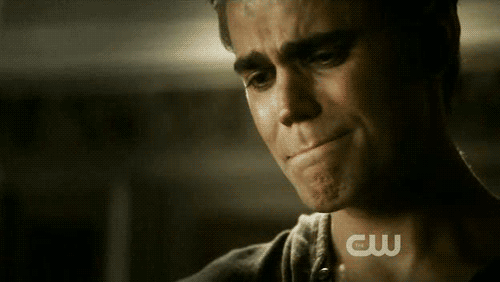 What's a love poem with s'mores?
Ummmmm… okay.
Love & Graham Crackers
My heart
M E L T S
and
my love
S T I C K S
like chocolate
and
marshmallows
you warmed over a campfire.
S M O L D E R I N G.
C R A C K L I N G.
I G N I T I N G.
Guys, I'm not a poet, okay? But Google tells me there are no known poems about s'mores, so I had to improvise.
Gene Mollica, who designs a lot of urban fantasy covers.
Are there any negative reviews of Stealing Parker?
Yes. Mine isn't super-enthusiastic, though I'm in the minority. Also, check out Ivy Book Bindings' review, who had mixed feelings about that book. Sarah a YA Love adored Stealing Parker and you should really check out her review, which particularly focuses on why teens will like this book.
Honestly, I know it sucks to be the odd person out and not like a book all the bloggers (or all your friends) rave about, but not everyone is going to have the same reaction to every book. That's kind of the awesome thing about reading.
Dude. Read the book. You really don't want to know—it'll ruin the novel for you.
What has Lisa Schroeder written?
Lisa Schroeder has written many excellent young adult and middle grade books. She's also super-nice and a huge Friday Night Lights fan.
YA Novels:
Falling for You (Jan. 2013)
The Day Before (2011)
Chasing Brooklyn (2010)
Far From You (2009)
I Heart You, You Haunt Me (2008)
Middle Grade Novels:
Frosting & Friendship (Sept. 2013)
Sprinkles & Secrets (2011)
It's Raining Cupcakes (2010)
My favorite Lisa Schroeder book is The Day Before; Laura's favorite is Far From You.
Is the Bell Jar self-indulgent?
Yes.
What are the five dirty books GQ says a man should read?
GQ's Tom Bissell claims that men should read the following "dirty books" aloud to their lady friends:
We scoff in GQ's general direction. These are terrible choices—we're working on a good list that will be published soon. (Uh, and drop me a line if you have suggestions.)
Related Posts